Dramaturg Maren Robinson sat down with Miss Holmes playwright Christopher M. Walsh and director Paul S. Holmquist to talk about the enduring popularity of Sherlock Holmes and how this new version of the character came about.
MR: How did each of you come to be introduced to Sherlock Holmes and do you have a favorite story or adaptation?
CW: I don't remember I time I wasn't aware of Sherlock Holmes on some level. I imagine my first introduction was through the Sesame Street character Sherlock Hemlock. Then Jeremy Brett's run playing Holmes for the BBC started when I was ten, and his likeness became inextricably linked to my mental image of the character. I remember my parents telling me that if I liked Sherlock Holmes, then I really needed to see the Basil Rathbone films, because Rathbone's was (according to my parents) the definitive interpretation. I've enjoyed many aspects of the more recent adaptations. I love how the current BBC show Sherlock handles the Holmes/Watson relationship, and its modern treatment of Holmes' antisocial behavior. The CBS show Elementary is effective in dealing with Holmes the addict. The Guy Ritchie/Robert Downey Jr. movie Sherlock Holmes is fun because it shows on-screen what Arthur Conan Doyle said happened off-screen.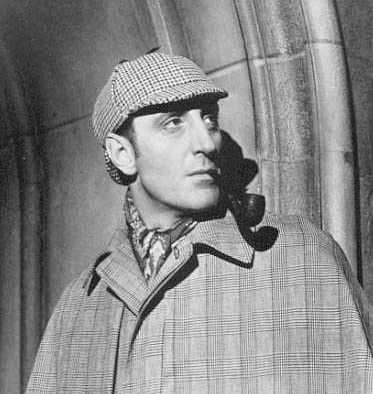 PH: In my culture, to say that I grew up watching the celebrated series MYSTERY! on PBS throughout the early 80's should come as no surprise. The definitive performance by Jeremy Brett in the title role of The Adventures of Sherlock Holmes was my introduction to the character, and, my first appreciation for acting as a craft. (Indeed, between Brett and Joan Hickson in Agatha Christie's Miss Marple, I became aware of how such detailed, thoughtful and subtle performances could move me to the edge of my seat.)
MR: Chris, what led you to make Holmes and Watson women? Why did you choose to keep the Victorian time period? As you were working on the adaptation where did your research on Victorian women take you and how did that influence your version of the story?
CW: It started with a conversation between me and my wife Mandy. We were comparing and contrasting the BBC's Sherlock and the CBS show Elementary, which had just premiered at the time. Both were noteworthy because they updated the setting to modern day (which the Basil Rathbone films also did – although for them, "modern day" meant World War II.) There are many stylistic differences between the two shows, but the most noticeable change is that Elementary made their Watson female. We found ourselves wondering just how different the original Doyle stories would have been had the main characters been women. Soon, we had this idea for an exciting theatrical experiment: If everything else began at the same points as they do in the Doyle universe, what would have to change to bring two women of comparable intelligence and mannerisms to the point where they were running around 1880s London solving crimes together? How would secondary characters like Sherlock's brother Mycroft, or Inspector Lestrade, or the landlady Mrs. Hudson react to these women behaving the same way their male counterparts did in the original stories?
Several years ago I read an essay positing that Sherlock Holmes' behavior, as described by Doyle, indicated the character had Asperger's Syndrome. That Asperger's wouldn't be identified as a diagnose-able condition for another 50 years or so made the idea that much more intriguing. How brilliant was Arthur Conan Doyle to identify collection of behaviors as all being part of a pattern? One of the first areas of research for this project involved looking into how women who exhibited such behavior would be treated in Victorian society. The answer presented itself readily enough: They would be institutionalized. This raised the stakes for our story significantly, as we now had a real sense of the kind of risks a female Sherlock would be taking.
The other area I dug into was the medical profession during the Victorian era, and women's role in it. It turns out that the late 1800s were a revolutionary time for women who wished to become doctors in Great Britain. I learned about extraordinary people like Sophia Jex-Blake, who led the first group of women to enroll in a medical school in Great Britain; and Elizabeth Garrett Anderson, who was the first woman to obtain a license to practice medicine in England. They formed the core of a very tight-knit group who, in the 1870s, managed to change the law in England to allow schools to grant licenses to women, and founded the first school of medicine just for women in London. The efforts these women had to go to in order to achieve their goals, enduring institutional, bureaucratic, and societal roadblocks that sometimes extended to actual physical abuse, was awe-inspiring.
MR: Paul, in rehearsal what did you discover was most difficult to grapple with in getting both the style of the mystery genre and in asking contemporary actors to embody the Victorian world?
PH: Victorian England and the mystery genre are sort of our bread and butter at Lifeline, but I did want to be careful that we not take it for granted that we know all we need to know. There's a danger, I think, in generalizing details about a culture, assuming expertise. For example, I lead the women in the cast through a couple of hours of experiential research on what wearing a corset was all about. We have a preconceived notion, not wrong, of what that would feel like, but spending some time in the rehearsal room, working scenes and playing with movement in corsets, skirts and hard soled shoes, we tap into a kinesthetic wisdom, an embodied sense of both the limitations and opportunities that the period fashion imposed on a woman in the late 1800's.
The challenge in telling a good mystery on the stage involves a careful organization of detail and character. We must be exacting in presenting the audience with the same opportunities to follow a thread of physical and behavioral clues so that the reveal of solving the mystery is a shared experience between our hero and the audience. For example, in directing Frances Limoncelli's adaptation of the Dorothy Sayers mystery Busman's Honeymoon, there was a very real physical danger presented in recreating the scene of the crime and duping the antagonist to set off his own death trap, provoking him to a wild and angry confession. The orchestration of that scene involved a carefully practiced and minutely executed climax. Live performance doesn't have the benefit of editing in post-production, what you see is what you get, and in collaboration with the designers, the cast, and the exceptional team of the Lifeline Ensemble, we work to identify where we could use a little more hinting and a little less. It's like working on a stereo equalizer, or cooking a pie crust, you have to add the ingredients in the right order and adjust them in fine detail to get the balance right. Ideally, after the show, a member of our audience can trace back through their experience of the show and recall all the moments that lead to the conclusion and feel a satisfying sense of Aha! Maybe even sensing that if Sherlock hadn't figured it out herself, they would have gotten there on their own.
MR: What was the most fascinating piece of research or part of the original Holmes stories that influenced this production?
CW: I particularly enjoyed reading about the "Edinburgh Seven," the group of women led by Sophia Jex-Blake who studied medicine together at the University of Edinburgh. During their second year, when their numbers had increased to around twenty, they were to attend an anatomy exam in a building called Surgeons Hall. The group was confronted by a crowd of several hundred people, shouting and throwing garbage at them. The gate to the building was slammed shut, and the janitorial staff had to help sneak them into the building. During the exam itself, someone let a sheep loose in the room where the exam was being held. Afterward, and group of Irish students who referred to themselves as the "Irish Brigade" escorted the women out of the hall and helped them get home. This event, known as the Surgeons Hall Riot, was only the most well-known incident during months of harassment and threats.
MR: Why do you think this character has been so popular throughout history and what do you think we get out of seeing the various iterations of Holmes and Watson?
PH: I see Holmes as one of the original literary superheroes of the modern age. The novels were sensational fiction, and we got to see Holmes' abilities lead him into improbable, exciting adventures. We are a species of storytellers and fantasizers and we will never satiate our need to live the vicarious experience of the hero. Watson's presence enhances the understanding and exposure to the world of Sherlock Holmes by acting as our substitute, we can relate to Watson's moments of indecision, incredulity – he is more like us than Holmes is, after all.
CW: Doyle hit upon a formula that provided, in the form of Sherlock, just the right balance between character flaws and competence. In any detective story, the question is never "Will they solve the case?" The questions is always, "How will they solve it?" With Sherlock, the question becomes, "How will he solve it in spite of his rudeness, his bizarre quirks, his addictions?" In my favorite stories, the answer is found in his partnership with Watson. Watson simultaneously idolizes and humanizes Sherlock. It's an impressive feat that cannot help but delight the reader because the reader IS Watson. We witness the stories through Watson's eyes. And Watson is no slouch. He's a doctor, a combat veteran, and a man of action. We are Watson, Watson is in awe of Sherlock, Sherlock needs Watson… therefore, Sherlock needs us.
Sherlock is not the first fictional detective – traditionally that honor goes to Edgar Allen Poe's character C. Auguste Dupin – but through Holmes, Doyle provided the template for all detectives in modern fiction. Characters like Lord Peter Wimsey, Miss Marple, Hercule Poirot, Mike Hammer, Philip Marlowe, Sam Spade, Nero Wolfe, Columbo, Nancy Drew, Jessica Fletcher, Veronica Mars, and even Batman have traits rooted in Sherlock Holmes.
MR: Without giving anything away, what to you think will surprise or delight fans of the original stories who come to see this production?
PH: I've been excited to discover how these familiar characters and their recognizable traits translate into a woman's experience living in London in the late 1800's. This theme feels very timely and timeless at the same time, by shining a light on the notion, we offer up something ripe for reflection and discussion.
CW: I hope audiences who are fans of the characters will enjoy the ways in which we've reintroduced or re-purposed certain quintessential elements of the Holmes universe. And I hope they'll think we managed to strike a good balance between the Holmes everyone already knows and the brand new stuff we've invented for this experiment.