Lifeline Theatre is located at 6912 N. Glenwood Ave in Chicago's Rogers Park neighborhood in the heart of the Glenwood Avenue Arts District. Street parking is available, but limited, so we run a FREE shuttle service for our patrons that drive to the theatre.
Free parking is available for Lifeline patrons at Sullivan High School (school address is 6631 N Bosworth Ave — the lot is located on the corner of Bosworth Ave and Albion Ave, with the entrance on Albion) with free shuttle service before and after the shows.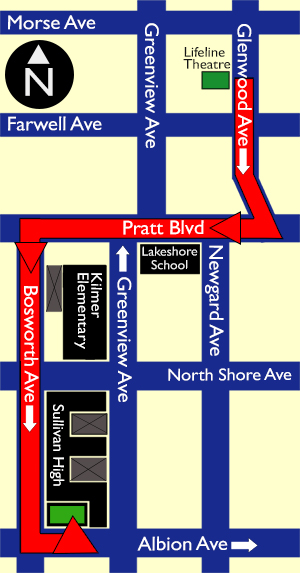 LIFELINE'S SHUTTLE
Our shuttle van will:
Begin its run 45 minutes prior to each performance.
Pick up audience members at the designated lot (see above) .
Make multiple trips back and forth to the theatre. (If the van isn't there when you arrive, don't worry, it's just in the middle of a loop and will be back shortly.)
Complete its rounds 5 minutes before show time.
Do loops back to the lot after the show.
OTHER NEIGHBORHOOD PARKING
Limited street parking is available in the neighborhood, but be sure to observe meters and signage. You may be able to find parking in other lots in the area, but please read their signs carefully so that you don't get towed.
PUBLIC TRANSPORTATION
We are conveniently located near public transportation – just half a block south of the Morse El stop on the CTA Red Line and a short walk from the Rogers Park stop on the Union Pacific Line. CTA buses #96 Lunt and #155 Devon both stop one block away from Lifeline. For more information, visit www.transitchicago.com