Theatre School
Drama Camps • Stories Come Alive! • Matinee Plus • Lifeline Storytelling Project
This year, Lifeline is thrilled to offer Spring Break Camp for ages 5-10 (ask about opportunities for 11-13 year-olds) and Summer Drama Camps & Classes for ages 4-12. Every camp teaches kids the basic principles of acting and produces an original adaptation of a well-known book or folktale. Click here for more information!



Every Saturday and Sunday at noon during the runs of our KidSeries shows (between the 11am and 1pm performances), we offer hour-long Stories Come Alive! workshops. Children get up-close and personal with the book behind the play they are seeing that day with an interactive storytelling session and on-your-feet theatre games designed to explore the characters, plot, and themes in the book. The experience is sure to make positive reading connections between children and books for years to come. Performances dates here!
MATINEE PLUS
For weekend matinee groups, we offer our Matinee Plus package, which includes a hands-on workshop following the 1pm KidSeries show. Workshops are customized for the group and can be based on the play &mdash or not! Past workshops have included storytelling, puppet making, and/or improvisational comedy.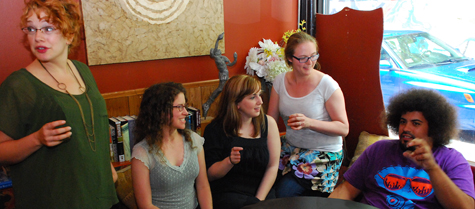 The Lifeline Storytelling Project is an incubation program for young professional performers to participate in solo writing/performance workshops led by Artistic Director Dorothy Milne, a 20-year veteran of the Chicago solo performance scene. The group performed in the 2011 & 2013 Fillet of Solo Festivals and continue ongoing performances in the Rogers Park neighborhood. Click here for more information.