News & Events
GENERAL AUDITIONS
Lifeline Theatre announces general auditions for its 2014-15 MainStage and KidSeries seasons. Auditions will be held on Saturday, May 3rd (9am-4pm) and Sunday, May 4th (9am-4pm). To request an audition, please email casting@lifelinetheatre.com with your availability during those hours, and an appointment time willPlease do not request an audition if you attended our generals or worked with us in the past two years (but emails of interest are always welcome). No calls, please.
Save these dates! And check this page often for info on our parties, events and workshops.
Questions? Call Erica at 773-761-4477, or email info@lifelinetheatre.com
YOU-NITE: Lifeline's 2014 Annual Gala Benefit
When: Thursday, May 1, 2014

Click HERE for more information!
The Second Annual Smartypants Spelling Bee
Friends and neighbors will throw down in a Battle of the Big Brains! A Skirmish of Scholarliness! A Pageant of Perspicacity! Only 50 may enter... only one will prevail.

More details coming soon

When: Monday, June 23, 2014
Where: Mayne Stage, 1328 W Morse Ave
GLENWOOD AVENUE ARTS FEST - AUGUST 15-17, 2014
This popular FREE festival (now entering its 13th year) features arts and crafts, theater, music, food and drink for the whole family on the brick streets of the Glenwood Avenue Arts District in Chicagoís historic Rogers Park neighborhood.
Where: Glenwood Avenue in Rogers Park
Admission: Free
Click HERE for details.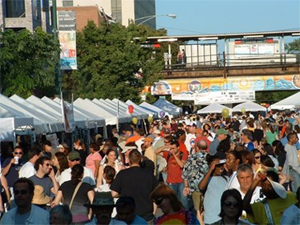 BINGO 'N BOOZE V: A 10-Buck Benefit for Lifeline Theatre
Bingo's back! Join us for food & fun, all for a great cause.

When: Thursday, August 21, 2014, 6:30 to 9:30pm
More details coming soon!
SPECIAL SUBSCRIBER ONLY EVENTS, RIGHT HERE AT LIFELINE THEATRE!
These events are for subscribers and donors only. Want to subscribe? Click HERE
MAINSTAGE SNEAK PEEKS
Come share wine and cheese with the creators of our MainStage shows! Itís a glimpse inside our process, as we create world premiere plays adapted from the stories you love. Previous sneak peeks have featured readings from the current draft, design presentations, stage combat exhibitions and in-depth discussions with the director and adaptor. Come inside the story!

Sneak Peek: Monstrous Regiment
Sunday, April 13, 2014, 7:00-9:00pm
Come talk with adaptor Chris Hainsworth and director Kevin Theis, see designer sketches, watch scene snippets, and more!
RSVP by April 11 to erica@lifelinetheatre.com