News & Events
Save these dates! And check this page often for info on our parties, events and workshops.
Questions? Call Erica at 773-761-4477, or email info@lifelinetheatre.com
For a complete list of special performances for audience members with disabilities, visit our Accessibility page.
Sheri Bell-Rehwoldt book signing
Meet author Sheri Bell-Rehwoldt while she signs copies of books, between the 11am and 1pm performance of You Think It's Easy Being The Tooth Fairy?.

When: Saturday, April 21, 2018 at 12 noon
Book available for sale in the lobby. Call 773-761-4477 for tickets to the show, or buy online.
Lifeline's 2018 Annual Gala Benefit
Join us in celebrating 35 years of Unforgettable Experiences, Meaningful Connections, and Access & Opportunity -- as well as a future that starts with YOU!

When: Thursday, May 3, 2018, 6:30 to 10:00pm

Click HERE for more information!
Summer Drama Camps
Outsiders and Renegades! This summer we've chosen a theme that celebrates protagonists who aren't afraid to be different and live by their own rules. Each week, our campers will adapt and perform books that explore the unique rewards of being true to oneself. In DRAMA KIDS, we'll create our own version of Princess Pigsty, by Cornelia Funke (Session 1), and Naked Mole Rat Gets Dressed, by Mo Willems (Session 2). Our DRAMA STARS campers will spend two weeks delving into the fun and danger of The Tale of Despereaux, by Kate DiCamillo. All three programs culminate in a special performance for family and friends on the final day.
Click HERE for more information and to register!
GLENWOOD AVENUE ARTS FEST: AUGUST 17-19, 2018
This popular FREE festival (entering its 17th year) features arts and crafts, theater, music, food and drink for the whole family on the brick streets of the Glenwood Avenue Arts District in Chicago's historic Rogers Park neighborhood.
Where: Glenwood Avenue in Rogers Park
Admission: Free
Click HERE for details.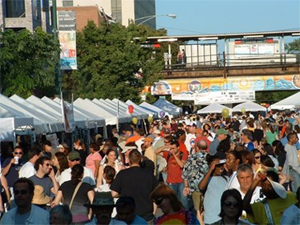 SPECIAL SUBSCRIBER-ONLY EVENTS, RIGHT HERE AT LIFELINE THEATRE!
These events are for subscribers and donors only. Want to subscribe? Click HERE
MAINSTAGE SNEAK PEEKS
Come share wine and cheese with the creators of our MainStage shows! It's a glimpse inside our process, as we create world premiere plays adapted from the stories you love. Previous sneak peeks have featured readings from the current draft, design presentations, stage combat exhibitions and in-depth discussions with the director and adaptor. Come inside the story!

Sneak Peek: Neverwhere
Sunday, April 15, 2018, 6:00-8:00pm
Come talk with adaptor Robert Kauzlaric and director Ilesa Duncan, see designer sketches, watch scene snippets, and more!
RSVP by April 13 to erica@lifelinetheatre.com