News & Events
Save these dates! And check this page often for info on our parties, events and workshops.
Questions? Call Erica at 773-761-4477, or email info@lifelinetheatre.com
For a complete list of special performances for audience members with disabilities, visit our Accessibility page.
Lifeline's 2016 Annual Gala Benefit
Join us in celebrating everyone who makes it possible to share our programming with people with disabilities.

When: Thursday, May 5, 2016
Click HERE for more information!
Summer Drama Camps
Our 2016 theme is SMALL-SCALE HEROES! This summer, our Lifeline campers will adapt and perform stories about adventurous insects and bold little bugs! With DRAMA KIDS, we'll adapt two different stories: Two Bad Ants, by Chris Van Allsburg (Session 1), and Anansi and the Moss-Covered Rock, a folk tale retold by Eric A. Kimmel (Session 2). With DRAMA STARS, we'll have fun recreating the world of Crickwing, by Janell Cannon. All three programs culminate in a special performance for family and friends on the final day.
Click HERE for more information and to register!
GLENWOOD AVENUE ARTS FEST - AUGUST 19-21, 2016
This popular FREE festival (now entering its 16th year) features arts and crafts, theater, music, food and drink for the whole family on the brick streets of the Glenwood Avenue Arts District in Chicago's historic Rogers Park neighborhood.
Where: Glenwood Avenue in Rogers Park
Admission: Free
Click HERE for details.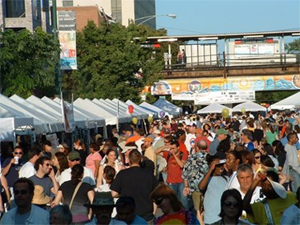 BINGO 'N BOOZE VII: A 10-Buck Benefit for Lifeline Theatre
Bingo's back! Join us for food & fun, all for a great cause.

When: Thursday, August 25, 2016

More details coming soon!
SPECIAL SUBSCRIBER-ONLY EVENTS, RIGHT HERE AT LIFELINE THEATRE!
These events are for subscribers and donors only. Want to subscribe? Click HERE
MAINSTAGE SNEAK PEEKS
Come share wine and cheese with the creators of our MainStage shows! It's a glimpse inside our process, as we create world premiere plays adapted from the stories you love. Previous sneak peeks have featured readings from the current draft, design presentations, stage combat exhibitions and in-depth discussions with the director and adaptor. Come inside the story!

Sneak Peek: Northanger Abbey
Sunday, May 1, 2016, 6:00-8:00pm
Come talk with adaptor Robert Kauzlaric, composer George Howe, and director Elise Kauzlaric, see designer sketches, watch scene snippets, and more!
RSVP by April 29 to erica@lifelinetheatre.com