"HIGHLY RECOMMENDED… this hourlong jolly musical will hook its audience (5- to 10-year-olds and their adult companions) from beginning to end."  –Jennifer Burklow, Chicago Sun-Times 
 
"Lifeline Theatre scores another hit with their whimsical barnyard talent show!"  –Robert Andersen, Chicago Stage Review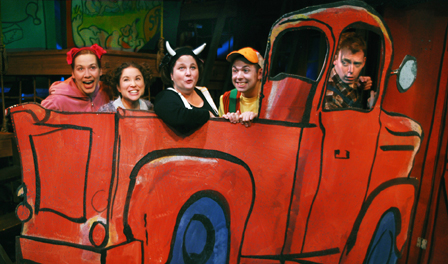 The County Fair is coming, and the grand prize in the talent competition is a trampoline! Duck wants that prize, but with Farmer Brown watching around every corner, how will he hold singing and dancing rehearsals for Cow, Pig and Ewe? Hop aboard Farmer Brown's truck and travel to the fair with this new musical about sharing your talents and reaching for your dreams, by the same team that brought you Click, Clack Moo.
Recommended for kids 5 and up. Children under 2 are not permitted.
Based on the popular bestseller by Doreen Cronin, illustrated by Betsy Lewin
Adapted by James E. Grote
Music by George Howe
Directed by Shole Milos