Chicago's premier solo performance and storytelling festival returns!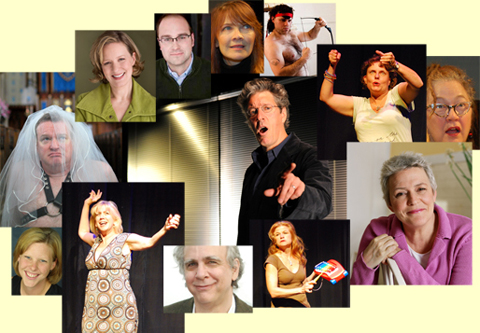 The 2011 Fillet of Solo Festival includes new work by local favorites such as:
Plus Kelli Strickland, Eric Warner, and members of the Lifeline Storytelling Project. (See the complete list of Performers below).
The Festival is also pleased to feature several performers with national exposure this year:
Second City alum Jimmy Doyle's Must Be Nice recently previewed at the Comedy Central stage at the Hudson Theatre in Los Angeles.
Victory Gardens Playwrights Ensemble member Jeffrey Sweet's You Only Shoot the Ones You Love has played at Ensemble Studio Theatre in New York and will appear at the upcoming 2011 New York International Fringe Festival.
Jenny Allen's I Got Sick Then I Got Better (directed by James Lapine and Darren Katz) has been seen in theaters, hospitals, universities and at cancer conferences around the country.
James Braly's Life in a Marital Institution (produced by Meredith Vieira Productions) premiered at the Edinburgh Festival Fringe, had a sold-out run at 59E59 Theater in New York City, before transferring Off-Broadway to critical raves at the Soho Playhouse.
DATES & TIMES
Regular performance times (July 21-August 6) are Thursdays, Fridays, and Saturdays at 7pmand 8:30pm; and Sundays at 3pm .
LOCATIONS
Performances are at Lifeline Theatre and Heartland Studio Theatre (free parking and shuttle available; see Performance Venues below for more details).
TICKETS
Tickets (July 21-August 6) are only $10 for each performance, and Festival Passes are available for only $30, which allow admission to any number of performances through August 6. Tickets may be purchased from the Lifeline Theatre box office (773.761.4477) or online.
FINAL PERFORMANCE
The final performance of the Festival (James Braly's Life in a Marital Institution) will be held Sunday, August 7 at 5pm, at Mayne Stage. Tickets for this special production are $20(Festival Passes do not apply). Tickets for Life in a Marital Institution may be purchased from the Mayne Stage box office (773.381.4554) or through www.maynestage.com.