Lord Peter returns for FOUR NIGHTS ONLY!
As part of our year-long 30th Anniversary celebration, Lifeline Theatre is thrilled to bring Lord Peter Wimsey and Harriet Vane back to our stage for a limited-engagement series.
Over the course of the 2012-13 season, we will present benefit concert readings of the four beloved Dorothy L. Sayers mysteries adapted by ensemble member Frances Limoncelli over the past decade. Frances will direct the performances, ensemble members Peter Greenbergand Jenifer Tyler will reprise their roles as Lord Peter and Harriet Vane, and many original cast members from all four productions will return. Plus, we'll be joined by special guests like Janet Ulrich Brooks, Ora Jones, Barbara Robertson, and Eric Simonson!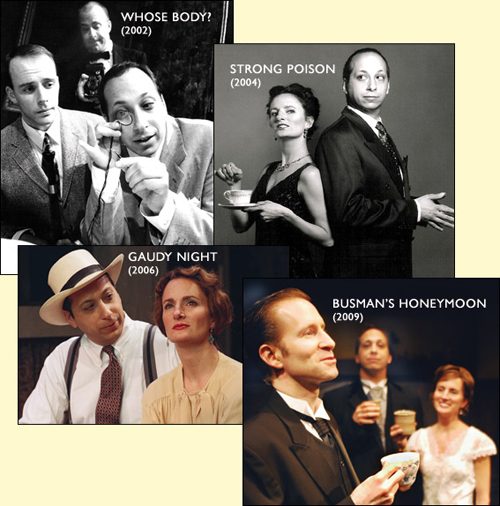 WHEN
Whose Body?: December 5, 2012
Strong Poison: February 27, 2013
Gaudy Night: March 27, 2013
Busman's Honeymoon: June 12, 2013

Each evening begins in the Lifeline lobby at 6:00pm, with hors d'oeurves, a light supper, and wine (plus conversation with the cast and Lifeline ensemble). At 7:00pm, the concert readings will begin. (Script times vary, but are approximately two and a half hours in length.) Afterwards, coffee and dessert will be served.
These gatherings – made possible, in part, by the generous support of the MacArthur Fund for Arts and Culture at Prince – promise to be unforgettable evenings with some of your favorite Big Stories in Lifeline's history. Don't miss this opportunity to revisit these beloved gems (or to experience them for the first time).

Only 109 tickets will be sold for each performance!
More than 4,000 people saw each of these shows in their original runs, but only 109 seats are available for each of these special events. Tickets will go fast, so don't miss out!
Tickets for each performances in this series are $75 apiece (price includes food, drink & dessert). Reservations are only available by calling the Lifeline Box Office at 773-761-4477.