The 17th Annual Fillet of Solo Festival

January 3-19, 2014
Celebrating the breadth of Chicagoís enduring storytelling and live lit scene, Lifeline Theatre and Live Bait Theater are thrilled to bring 10 solo performers and 13 storytelling collectives together for a three-week, multi-venue selection of powerful personal stories.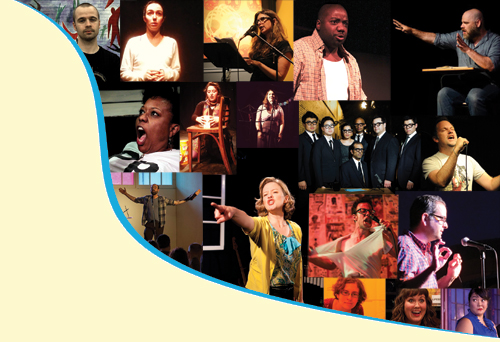 The 2014 solo performance and storytelling festival features the work of:
Plus: solo performances by Liz Baudler, Jamie Black, Eve Brownstone, Katherine Chronis, Marsha Estell, Kim Morris, Andrew Reilly, Amanda Rountree, Penelope Walker, and Eric Warner.
And: storytelling panels and workshops led by Amanda Delheimer Dimond and Julie Ganey from 2nd Story, and Deanna Moffitt and Story Sessions alums.
LOCATIONS
Performances are at Lifeline Theatre and Heartland Studio Theatre (free parking and shuttle available; see Performance Venues below for more details).
TICKETS
Tickets are only $10 for each performance, and Festival Passes are available for only $30, which allow admission to any number of performances. Tickets may be purchased from the Lifeline Theatre box office (773.761.4477) or online.

Buy Festival Passes here!
Top | Venues | Performers
Lifeline Theatre
6912 N. Glenwood Avenue
Heartland Studio Theatre
7016 N. Glenwood Avenue
Both venues are located in Chicago's Rogers Park neighborhood, in the Glenwood Avenue Arts District, steps from the Morse Red Line CTA stop. Free parking is available at the designated lot west of the theatres (NE corner of Morse and Ravenswood) with free shuttle service before and after the shows. Street parking is also available.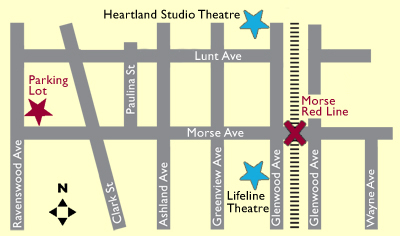 For all performances, call the Lifeline Theatre box office for tickets (773.761.4477) or click here.
Top | Venues | Performers
2nd Story
Love Thy Neighbor... till it hurts
Written and performed by Julie Ganey
Directed by Megan Shuchman

Julie Ganey, theatre and storytelling veteran, and longtime resident of Rogers Park, asks, "What does it mean to be a good neighbor in one of the most diverse communities in the country?" A tenacious look at how we misunderstand, mistake and misjudge each other - and choose to live together anyway.


The Backyard
Written and performed by Nick Ward
Directed by Jessica Kadish

Nick Ward is a writer, storyteller, producer, production manager, casting person, and very occasional actor who has worked with Steppenwolf Theatre Company, Theatre Seven of Chicago, Sinnerman Theatre Ensemble, PineBox Theatre, and PR Casting. He has been a company member with 2nd Story since 2006.


What's Your Story? Workshop

What's your story? (You know you have one.) 2nd Story's Amanda Delheimer Dimond and Julie Ganey offer a storytelling and solo performance workshop open to the public. Explore digging into your own experiences, what makes a great story, finding your voice and crafting your real-life piece for an audience, all in 2nd Story's uniquely collaborative style. Grab your journal and join in the fun.


Jamie Black
It's My Penis and I'll Cry If I Want To
Written and performed by Jamie Black
Directed by Geoffrey Bleeker

"Iím a guy. Sometimes I listen to Madonna. Sometimes I cry. So what? Stop judging me! Itís My Penis and Iíll Cry If I Want To talks about men and women who donít necessarily behave the way society says they should. Like me!"


The BYOB Story Hour
The BYOB Story Hour is an intimate night of storytelling and live music. Once a month, six of Chicagoís best storytellers take the stage to share personal narratives based on that monthís theme. In addition to hearing some incredible stories, you will also get to see a live musical performance by local Chicago musicians. The event is normally BYOB (hence the name) but we are sure it will still be a night of laughter, tears, and music!


enSOLO
An ensemble of solo performers who write together and perform alone. A little bit of non-fiction, story telling, and performance art with no 4th wall. Everything biographical. enSOLO strives to find universal truth through specificity and brutal honesty.


Marsha Estell
Big Butt Girls and Other Fantasies/The Remix!
Written and performed by Marsha Estell
Directed by Tim Rhoze

Trapped by varicose veins, hot flashes and that "middle-aged middle," Marty longs for her childhood on the South Side of Chicago, where all she cared about was listening to James Brown, dancing with her father and developing into a "Brick-House!" Using humorous flashbacks and music, Big Butt Girls takes us along on a hilarious and touching ride with Marty as she uncovers true beauty and the meaning of self love.


Five From Rogers Park
Virgo: The Screenplay
Written and performed by Liz Baudler
Directed by Katherine Chronis

Liz Baudler is a Chicago writer who is likely at this point more famous for being a lesbian than a writer. Nevertheless, her writing appears in Newcity, Hair Trigger, and Feathertale. Her piece deals with her indoctrination into the sinister lesbian cult. Thanks to Katherine Chronis and Kat Kidwell for all their love and support.


What's It Like Being a Twin?
Written and performed by Eve Brownstone

What's It Like Being a Twin? is an exploration of identical twindom. I got answers!!


The Dookie Award
Written and performed by Katherine Chronis
Directed by Liz Baudler, Katie Bender & Nancy Vankanegan
Violin by Katie Bender

greek-american artist. maker of scrolls, small book series, poet, muse, dancer, writer: bodies of multimedia works, scapegoat unlimited, mother of all wars, get naked project. "i got a lot of stories."


The Composition of a Bad Date
Written and performed by Jade C. Huell

Scholar-Artist Jade C. Huell is an experimental theatre director, performer, and movement/poetry coach. Her work centers on memory, the body, and community performance.


Facebook Ruins Relationships
Written and performed by Amanda Rountree
Directed by Dorothy Milne

Amanda grapples with the knowledge of what her loved ones like and share on Facebook.


Hot Norwegian Chicks in Logan Square
Written and performed by Betsy Vandercook
Directed by Dorothy Milne

Betsy Vandercook researches her family history.


the kates
An all-female comedy group that encompasses the distinct voices of up-and-coming Chicago performers. The kates provide an intimate night of comedy with pieces ranging from darkly amusing musical numbers, the awkward art of clowning, absurd solo performances, and uproarious stand up comedy.


The Lifeline Storytelling Project
The Lifeline Storytelling Project produces monthly live music and storytelling events designed to develop and showcase young artists affiliated with Lifeline Theatre.

2014 FoS performers: Jessica Wright Buha, David Fink, Georgia Knapp, Alex Kyger, Amanda Link, Joe Schermoly, and Andrew Blake Stam.


Kim Morris & Andrew Reilly
Written and performed by Kim Morris and Andrew Reilly
Directed by Alyson Lyon

Birth. School. Work. Rock. Heartbreak. Taxes. Death. As the sure things fall through and what seemed so real has all faded away, a young woman is left to search for answers, while a young man is stuck trying to understand the questions.


Stir-Friday Night!
Whitewash Rinse Repeat
Directed by Anneliese Toft
Written and performed by James Kannookadan, Kannan Arumugam, Dacey Arashiba, Gilbert Galon, Christina Seo, Melissa Kong, Avery Lee

"We are Asian. We do comedy." Based in Chicago and one of the nationís premier Asian-American sketch comedy troupes. Having worked with The Second City and iO, Stir Friday Night has become a fixture in Chicagoís illustrious comedy scene.


Story Club
Story Club is like Fight Club, only they tell stories instead of punching each other and everyone talks about it. Story Club mixes the spontaneity of an open mic with the experience of live theatre.


Story Lab
Story Lab Chicago is a storytelling series that has put over 200 new or first-time tellers on stage. Everyone has a story, and everyone, regardless of experience or background, is encouraged to tell it.


Story Sessions
Story Sessions is a collection of performers sharing true personal stories that tug at your heart strings, tickle your funny bone and take your mind on a wild adventure.


Friends with Words: Building Creativity and Community Through Storytelling Panel

Story Sessions host Deanna Moffitt will sit down with some of the show's alum to talk about why they love the art form, what drives their craft and what makes their stories unique. We'll also uncover great tips on how to start your own story and what to do with once you're ready to share your tale with others.


Sweat Girls
Sweat Girls Size Up The New Normal

The Sweat Girls speak with honesty, authenticity and humor about the human condition as theyíve experienced it. They have been writing and performing storytelling shows in Chicago for over 20 years.


Tellin' Tales Theatre
Tellin' Tales Theatre builds community through story — adult solo performances as well as "Six Stories Up", a mentoring program and show featuring kids and adults, with and without disabilities.

Tekki Lomnicki is a solo performer, playwright, director and educator. She is a recipient of an Illinois Arts Council Artists Fellowship in New Performance Forms, the 2008 3Arts Artists Award in Theater and the 2010 Grigsby Award for Excellence in Solo Performance.

Tekki will be joined by Barrie Cole, Andrew Marikis, and Maia Morgan.


Penelope Walker
How I Jack Master Funked The Sugar In My Kneecaps!
Written and performed by Penelope Walker
Directed by Marsha Estell

From dance recitals, to dance halls; from high blood sugars to no count prophecies! Come cut a rug with Penelope as she takes you on this no holds barred, fantastical journey of house music & diabetes!


Eric Warner
A Life in Tending
Written and performed by Eric Warner

A few years ago Eric Warner broke into the abandoned Purple Hotel, just to explore. 'Cause he's always been curious about it. Not because he is a hoodlum. Inside the hotel he found his grandma's house. 'A Life in Tending' is a multimedia monologue; a tour through a decrepit Chicago landmark, a story about how our identities can be tied to a place, and what changes when that place deteriorates or vanishes.


Write Club
2 opposing writers. 2 opposing ideas. 7 minutes apiece. The audience picks a winner. Write Club is bare knuckled lit. Write Club is literature as blood sport. Write Club does good without being annoying about it. Write Club features a rotating lineup of Chicagoís most audacious and fearsome writer/performers.


You're Being Ridiculous
A group of real people telling real funny stories about their lives with a theme as their guide. They laugh at themselves and laugh with each other. Everyone has a story to tell -- whatís yours?


FESTIVAL HISTORY
Live Bait Theater developed more than 200 world premieres over its 20-year history and was nominated for over 50 Non-Equity Jeff Awards, predominately in the category of New Work. Sharon Evans was the Artistic Director from 1987-2008, and in 1995 she created the Fillet of Solo Festival, which featured over 200 solo artists in its first 13 years.

In 2009, Live Bait closed its doors, but Evansí enthusiasm for new work and for the Festival remained undiminished. When searching for a new producer of the Festival, it was important to her that it be a theater dedicated to new work and she was delighted to find a perfect fit with Lifeline Theatre. In 2010, Lifeline and Live Bait co-produced the 14th Annual festival, and Lifeline has been carrying on the tradition ever since.
Top | Venues | Performers