"An enjoyable potboiler with a unique twist, The City & the City is a great place to visit." –Time Out Chicago

"It comes together beautifully for a dramatic and satisfying climax… you'll find yourself immersed in a tale that will satisfy both mystery and science fiction buffs." –Stage and Cinema

"A political murder mystery novel brought to the stage with panache and dark seriousness, as well as remarkable clarity" –Chicago on the aisle

Inspector Tyador Borlú of the Extreme Crime Squad is assigned to a seemingly open-and-shut case: an American student found dead in the gutters of the city of Beszel. But soon this deceptively simple crime reveals ties to powerful political and corporate factions at the heart of both Beszel and its twin city, Ul Qoma. Forced to cross the divide between two city-states coexisting in the same geographical space yet separated by irreconcilable cultural differences, Borlú must bring to justice the mastermind of the most unusual and dangerous case of his career. A thrilling crime story set in a location both fantastical and eerily real, in a world premiere adaptation.Based on the novel by China Miéville
Adapted by Christopher M. Walsh
Directed by Dorothy Milne
MEET CHINA MIÉVILLE ON MARCH 16!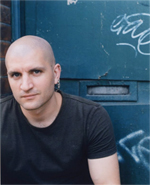 Lifeline Theatre welcomes China Miéville on Saturday, March 16th for a book signing event in our lobby at 7pm, (following shortly after the 4pm performance), and a conversation with the audience, cast, and production team immediately following the 8pm performance. The book signing and talkbacks are free events and copies of The City & The City will be on sale.
China Miéville is the author of several books, including Railsea, Un Lun Dun, Perdido Street Station, The City & The City, Kraken, and Embassytown. His works have won the Hugo, the British Science Fiction Award (twice), the Arthur C. Clarke Award (three times), and the World Fantasy Award. He recently moved from London to Chicago.
Highlights from The City & The City. Music by Christopher Kriz.